5 Easy Crafts to Make for Pre-Schoolers and Kids
5 Easy Crafts to Make for Pre-Schoolers and Kids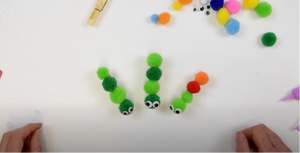 Behind the pompoms, pipe cleaners, glitter and googly eyes lie lifelong benefits for your little one.
Crafting develops a rich skillset in pre-schoolers as they learn to listen, clearly communicate, use their imagination, refine their focus and practice patience.
And that's not all. When kids craft they:
Develop coordination and fine motor skills
Both hands are used when crafting meaning muscles are strengthened. Cutting, colouring, tearing, squeezing, pulling, threading and so much more all contribute to developing that key coordination.
Learn shapes, colours and textures
Working with different materials introduces children to a wide range of textures, shapes and colours, preparing them for their school years and beyond.
Express emotion
Sometimes finding the right words is tough, that's where crafts come in. Children can use crafting as an outlet to both express and understand their feelings.
Build confidence
Crafting can boost children's self-esteem as they accomplish projects and take on tasks independently, plus get to see their achievements displayed. Crafting is also a chance for children to understand that it's okay to make mistakes and, in fact, these mistakes can lead to new creations and accomplishments, a vital lesson to learn early on.
When something so fun can be equally educational and developmental, it's a top of the list activity for pre-schoolers.
But, pre-schoolers aren't known for their long attention spans.
Complex crafts with fiddly steps just aren't going to cut it when you want to keep your little ones busy.
So, if you're in search of some easy crafts that'll keep them still for more than a minute, you've come to the right place.
Easy clothes peg caterpillar craft
Fun to make and practical to use? Our favourite kind of craft!
You only need 4 items to make these easy clothes peg caterpillars. Minimum components with maximum possibilities. Dry your washing, display your children's pictures, secure open food packets, seal party bags, hang up photos; these clothes peg caterpillars add a touch of creativity to the everyday.
How to make
What you need:
Wooden or plastic clothes pegs

Bag of colourful pompoms

Googly eyes

PVA glue
Step one
Cover the top of the clothes peg in PVA glue and stick on your pompoms.
Step two
Add two googly eyes to the pompom at the top of the clothes peg and leave to dry.
And there you have it!
Easy pipe cleaner butterfly craft
With summer well on its way, bright butterflies will soon be fluttering by.
But now there's no need to wait for the season to change, you can capture the beauty of the butterfly all year round with this easy craft for kids. Endless opportunity for colours and design are sure to get the creative juices flowing.
How to make
What you'll need:
3 full length green pipe cleaners

1 yellow pipe cleaner

1 smaller piece of green pipe cleaner (about 5cm)

Self adhesive googly eyes

Colourful card

Glue

Pompoms
Step 1
Fold one of your green pipe cleaners into thirds and twist to keep it secured.
Step 2
Wrap the yellow pipe cleaner around the folded green pipe cleaner.
Step 3
Wrap another green pipe cleaner around the yellow pipe cleaner, one pipe cleaner should take you about halfway along, so wrap the final green pipe cleaner around the other half.
Step 4
Take the smaller piece of green pipe cleaner and twist it around one end of the wound up pipe cleaners to create antennae.
Step 5
Add googly eyes to the caterpillar.
Step 6
Cut out butterfly wings from some colourful card and stick the caterpillar in the centre of the wings.
Step 7
Decorate the wings with pompoms.
Easy bedroom door sign craft
Bedroom makeovers are a top activity for children as they get to experience a real sense of ownership and pride in their space, filling it with all their favourite things to wake up and go to sleep with a smile.
But what do you do if you've run out of wall space? Well, it's not just the inside of the room where there's opportunity. This easy bedroom door sign is a perfect personalised craft, plus can brighten up your landing in no time!
What you'll need:
Thick card (colour of your choice)

Cardboard

Scissors

PVA and glue stick

Pompoms, gems, feathers, matchsticks etc. for decor
Step 1
Draw out the initial you'd like to make onto the coloured card – by hand or using a stencil taken from the internet.
Step 2
Cut round this with scissors or using a craft knife.
Step 3
Glue the card stencil to the cardboard and cut this to the same shape
Step 4
Now it's time to decorate! Arrange and attach all your decorative supplies to your initial.
Easy picture frame craft
Give your picture the frame it deserves with a dazzling DIY design.
As the sun starts to shine just a little more, you might have a few lollipop sticks going spare. These are just the job for this simple step photo frame. And once the structure's in place, your children are free to add all the sparkles, colour, glitter and decorations they desire.
How to make
What you'll need:
4 lollipop sticks

Coloured card

Pompoms, glitter, feathers, gems etc. for decor
Step 1
Stick the ends of the lollipop sticks together to create a square.
Step 2
Decorate your frame with all your pompoms, glitters, feathers and gems.
Step 3
Cut your coloured card to the size of your lollipop stick square and stick the card to the back.
Easy umbrella buddy 
Rain, rain, go away. Come again another day.
But maybe it's not so bad after all.
When you've got a smiley umbrella buddy to keep you company, the wet weather doesn't seem so glum. An easy craft giving children a long-time companion for those drizzly days.
What you'll need:
1 x sheet of craft foam

3 x pipe cleaners

Googly eyes

Self-adhesive foam shapes
Step 1
Cut 2 matching umbrella shapes from craft foam. Set aside.
Step 2
Take 3 pipe cleaners and twist together.
Step 3
Bend one end over and twist to hide ends of pipe cleaner.
Step 4
Bend the other end of the pipe cleaners into a U shape to create a handle.
Step 5
Taking one umbrella shape, glue the pipe cleaners into the centre with the top of the pipe cleaners showing at the top.
Step 6
Apply glue to the rest of the umbrella shape.
Step 7
Lay the second umbrella shape on top, press into place and let dry.
Step 8
Whilst the glue is drying, create shapes for decorating your umbrella from paper, craft foam or use the self-adhesive Edu-kit foam shapes.
Step 9
Once the umbrella is dry, add googly eyes and a smile and decorate.
Easy pipe cleaner flower
Create your own indoor garden with these easy to make pipe cleaner flowers. Long lasting, less maintenance and just as pretty, brightening up the home all year round.
How to make
What you'll need:
5 pipe cleaners – 4 for petals and 1 for the stem

1 pompom

Googly eyes

Glue dots

Pencil
Step 1
Start by making your petals. Fold your pipe cleaner in half to find the centre. Unfold and bring both ends of the pipe cleaner to the centre. Do this with all four pipe cleaners.
Step 2
Twist two of the petal pipe cleaners together in the centre and arrange them into a plus shape. Do this with the other two petal pipe cleaners, so you end up with two plus shapes.
Step 3
Stick a glue dot on the centre of one of the pipe cleaner plus shapes and stick that to the centre of the other.
Step 4
Open out your pipe cleaner loops to create your petal shapes.
Step 5
Wrap the top of your stem pipe cleaner around the middle of the pipe cleaner flower.
Step 6
To make your stem curly, wrap the pipe cleaner around a pencil and gently pull it out to keep the twist in place.
Step 7
Put a glue dot in the centre of the flower and stick on your pompom.
Step 8
Stick your googly eyes onto the pompom.
Sometimes you just need 5 minutes peace.
And with such simple steps sure to keep them entertained, that's exactly what you get with these easy crafts for pre-schoolers.
Realised your craft cupboard is low on supplies? Check out our Craft Kits packed full of everything you'll ever need for the ultimate arts and crafts projects. If you're looking for something specific, we've also got a whole host of essential crafting supplies to choose from.
All of our products come with the Edukit guarantee.
That means you can rest assured that you're receiving high-quality, EN-71 certified, 'Kid-Safe' products at great value for money.
Designed to withstand hours of clipping, snipping, shaping and designing, our products are made with premium quality materials to stand the test of time.
Happy crafting and be sure to share your creations with us over on social media!