It's beginning to look a lot like 'craft-mas'!
It's beginning to look a lot like 'craft-mas'!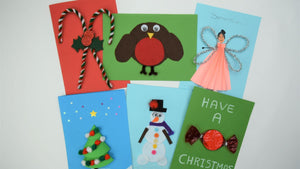 With a year of being separated from family and friends, spreading the love and Christmas cheer has never been more important this festive season.
And with us spending even more time cooped up indoors in the run-up to the big day, now's the perfect opportunity to grab the crafts supplies and try out some Christmas card making for all the family to enjoy.
Handmade gifts are always treasured by friends and family members. So make the most of the festive season by cracking out the craft supplies with the kids and sharing homemade Christmas cards to make the ones you love smile.
And the Christmas elves at Edukit are here to help give you some Christmas card inspiration, with their top five festive crafts to try out this year.
Fingerprint fairies 
Sprinkle some fairy dust onto your designs with this 'fingerprint fairy' craft.
Children of all ages can have fun with this arts and crafts task, which gives them the freedom to explore their creativity and, of course, get messy.
What you'll need
All you'll need for this craft is some paints in a range of colours and some sparkly pipe cleaners.
Step 1
Start by picking your paint colour of choice, and place a fingerprint into a paint tray or palette and carefully position this onto your card. 
Step 2
You'll then need to take a separate sheet of A4 paper in a colour of your choice, cut this in half, and in half again - this will be your fairies skirt.
Concertina the paper until it is all folded, pinching the top of one end together, and fix this together using a glue dot.
Step 3
You'll then need to stick down you skirt, with the glued end touching the bottom of your fingerprint.
Carefully draw an outline of your fairy with arms, a face and legs, adding sparkly pipe cleaners for wings, and other embellishments for a wand or flower crown.
You'll certainly bring some much-needed magic to the festive season with this easy-peasy Christmas craft for the kids.
Do you want to build a snowman?  
A handmade Christmas card could never get a 'frosty' reception.
So, why not try your hand at making a snowman themed festive greetings card - the perfect craft for all the family to get involved in.
Step 1
For your snowman card craft, you'll need to start by cutting out a number of white circles from white felt or foam to form the body of your snowman creation.
Step 2
You'll need to set these aside and begin cutting out smaller circles, squares, semi-circles and triangles to become the features of your snowmen; their eyes, noses, scarfs etc. These can be in a range of colours to suit your preference.
Step 3
The kids can then create their snowmen by placing these shapes carefully onto the front of their card and glueing them in place once a pattern has been designed.
Step 4
Breathe life into your snowy creations by adding googly eyes and other embellishments like buttons and pom poms to create a wonderful winter wonderland.
Rockin' robins
Nothing says Christmas more than a little festive robin, making it the perfect motif to use on the front of a season's greeting.
What you'll need
A perfect craft for children of all ages, to make these rockin' robins, all you'll need is some assorted coloured felt, card, pipe cleaners and googly eyes.
Step 1
To start, you'll need to create the body of your robin. You can do this by using a piece of brown felt and place this in the centre of your card. 
Step 2
You'll then need to cut out two brown ovals, which will create your little robin's wings.
Step 3
Once you've arranged the felt pieces to look reminiscent of a robin, you will need to glue these into place using PVA glue.
Step 4
As you wait for the glue to dry, you can then start adding some personality to your crafty creation.
You'll need to grab a piece of red felt and cut this into another circle, smaller than the body of your robin, to become the robin's red breast. Once cut to size, this will also need to be glued to the centre of the brown felt shape, or body, of your robin.
Step 5
From here, you can add a pair of googly eyes to the robin's head, brown pipe cleaners for its legs and cut out a triangular shape from yellow felt or foam for its beak. This will help to bring your little robin to life.
Step 6
Finish your card with some festive cheer, adding 'Merry Christmas' or 'Season's Greetings' and it's ready for the post.
Cellophane sweetie
Whether it's dipping your hand in the selection box, or finding the perfect sugary stocking fillers for the 'sweet-tooth' in the family, we doubt there are many people who don't love a treat or two during the festive season.
So, if you're struggling for some card-spiration this year, why not consider making a festive sweetie for the front of your festive greeting?
What you'll need
All you will need to make a sweet treat Christmas card this year is some craft foam, cellophane, pipe cleaners and PVA glue.
Step 1
Firstly, you will need to cut a circle from your craft foam, in the desired shape and colour of your sweet.
Step 2
You will need to set this aside and then grab a piece of coloured cellophane. This needs to be cut into an oblong shape, around three times wider and longer than your sweet design.
Step 3
Once you've done this, you will need to place your sweet in the middle of your cellophane. Here you will need to fold the cellophane around the sweet to cover it and secure with some glue.
Grab your pipe cleaner and tie this around the outside sweet to create the wrapper effect of a sugary treat. Repeat this on the other side of the sweet.
Step 5
From here, you will then need to glue the sweet to the card. 
And we all know one sweet treat isn't enough, so you can make plenty of these sweeties in all different shapes and sizes to add to your card, using an array of colours to make your own Christmas candy land.
Paper fold Christmas trees
If you have older children, this intricate craft will certainly keep them quiet over the run-up to the festive season.
Paper folding can create incredible effects that add a professional-looking finish to any arts and crafts project.
So, why not grab the older kids to try their hand at these paper fold Christmas tree cards?
What you'll need
For this craft you'll need coloured paper, brown felt or foam, pipe cleaners, glue and a range of festive embellishments.
Step 1
To start, draw out three circles of paper in a small, medium and large size. 
Step 2
From here, you will need to fold each circle in half, folding this straight-edge down to meet in the middle, creating a triangle with a round bottom edge, and cut these out.
Step 3
You can then attach the first circle to the card, folded side down, to create the top of the Christmas tree. Going up in size, place the medium-sized circle below the top triangle, so it sits slightly inside the top triangle.
Step 4
Repeat this step again using the largest circle, and you will have created your Christmas tree shape.
Step 5
Grab your brown felt, foam or pipe cleaner and place this at the bottom of your design to create the tree trunk.
Step 6
Add sparkly pipe cleaners for the tree's tinsel, glitter pom poms for baubles and sprinkle on some glitter to add some much-needed sparkle to the festive season.
We want candy (canes)
And if one candy-themed card craft wasn't enough, we've created another to add even more sweetness to the festive period.
What you'll need
For this craft, all you will need is a craft kit essential - some pipe cleaners. Red and white will really help to create the traditional look of a candy cane, but, as with all crafting, you can choose whatever colour you like.
Step 1
You will need two of each coloured pipe cleaner, and all you will need to do to create your candy canes is twist two of the different coloured pipe cleaners together.
Step 2
From here, you will need to bend the end into a hook shape, which is synonymous with the traditional candy cane shape.
Step 3
With the remaining two pipe cleaners, you will need to repeat the previous step so you have two finished candy canes.
For a lovely festive flourish, place one on top of the other in an 'x' shape on the front of your card and glue these in place.
Step 4
To finish this easy craft off nicely, grab some green felt and trim these into delicate holly leaves, and some tiny red felt circles for the berries.
Self-adhesive foam is also a great option, as all you need to do is cut, remove the film and stick.
Suitable for all ages, this candy cane card craft will certainly put a smile on any face, even that of the grumpiest Scrooge.
 But before you start your festive crafting, make sure you have all the products you'll need to complete your projects by browsing our range of crafts supplies and kits.
And to get us in the festive spirit, we'd love for you to share your Christmas creations with us on our social media pages - you may even get the chance to have your design featured on our page.
We can't wait to see your Christmassy crafts, and we know your friends and family will love them too - we ho, ho, hope you try them out!