Easy, handmade craft gift ideas
Easy, handmade craft gift ideas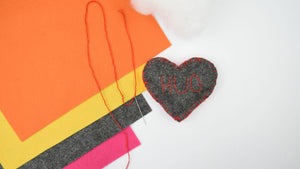 Treating the ones who do so much for us throughout the year is always a difficult task. How do you go about giving a gift that sums up just how much they mean to you?
Well, all the money in the world couldn't show them how much you appreciate them, so why not spend time, not money, on making them a gift by hand that they can keep and treasure forever?
You really can't put a price on homemade gifts made from the heart, so why not let the experts here at Edukit help you to master the art of handmade present giving, for some DIY gift inspiration that everyone will appreciate.
From easy craft options to more detailed designs, we've shared step by step instructions to help you create beautiful, handmade pieces designed to put a smile on anyone's face.
So let's grab our craft supplies, open up the craft kit and get those creative juices flowing to treat the ones you love to something money can't buy.
Create your own delicate drawstring pouch
Difficulty: Easy
A gift that has a multitude of uses, our handmade drawstring pouch design will certainly add a luxurious touch to the present giving process.
Whether it's matched to your loved ones home decor, or is styled using their favourite colours, this keepsake pouch will be the envy of everyone - and be ready to expect requests for you to make more!
For this craft, all you'll need for is a sheet of A4 craft felt, some string or ribbon.
Step 1
To start this craft, you will need to cut out a large circle from your felt sheet, as large as the A4 size will allow. If you have a printer available, it may be worth printing out a stencil that you've created to get the shape as accurate as possible.
Step 2
Once your circle has been outlined, cut this out carefully and as neatly as possible to create your 'pouch' shape.
Step 3
You'll then need to mark out equally space lines around your circle.
Step 4
Where you have made the lines, cut these as slits in the felt -  these will become the holes where the string or ribbon will be weaved through to create the drawstring effect.
When the cuts have been made, use your length of ribbon or string, as mentioned, to weave in and out of the holes, and tie these together at the end.
Step 5
Once this has been done, you will need to pull the string, which will create the drawstring effect, and gather the felt together.
And there you have it; your very own drawstring bag.
Whether you pop some potpourri or lavender inside to give as a gift to keep wardrobes or bedside drawers smelling wonderful, or even to help store jewellery pieces away safely - this versatile craft has so many uses.
A keepsake decoration to cherish
Difficulty: Easy - Medium
The beauty of this decoration craft is the hard work you put into its creation will certainly be appreciated, and will undoubtedly be kept in the family for years to come.
By personalising your keepsake with your friend or family members name, or using their favourite shades to create your gift, you'll certainly be on to a winner with this one, and will put a smile on anyone's face.
All you will need for this craft is some felt, a hand sewing needle and some embroidery thread.
Step 1
Start by cutting out two heart shapes from your craft felt, at whatever size you'd like your craft to be.
Step 2
Choose one side of your heart-shaped felt to be the front of your craft, and stencil out a simple pattern or phrase, like 'hug' or 'love' to become your design.
Please note that the more intricate your pattern, the harder this craft will be.
Step 3
Grab your sewing needle and thick hand sewing thread in your chosen colour and start sewing along your design in a simple embroidery stitch. This could be backstitch or a running stitch, which you can easily learn through step by step instructions online.
Make sure to knot the end of your thread before sewing, ensuring that this won't be able to go through the felt as you work.
Step 4
Place your second piece of felt on the back of your embroidered heart, and place your needle through both layers, around a 5mm gap from the edge.
Loop the thread back on itself, over to the other side, coming back through at the same place as your stitch.
Move along slightly, around 5mm away from the first stitch, and repeat this again. 
Continue doing this all the way around your heart design, until you get 5cm away from completing the shape.
Step 5
You can then fill your shape with the filling of your choice - whether that's just stuffing, beads, lavender, or another option you think your friend or family member will love.
Continue sewing until you have closed the remaining space or gap in your design.
Whether your heart decoration is personalised for a loved one, or features a seasonal message, the effort that goes into making this memento will certainly be recognised by the receiver, and is perfect for any occasion.
'At snail's pace' - create your own snail design badge or hair clip
Difficulty: Easy
Not a DIY or craft expert? Then this easy craft project could be the one for you.
To try your hand at this 'slow and steady' craft, you'll need to grab some craft foam, felt, craft glue and a safety pin or hair clip.
Step 1
To start, you will need to cut out the basic shape of your snail out of some craft foam. This will become the base of your design to keep it stable.
Step 2
Cover the shape in craft glue and lay some craft felt, or even additional foam, in your chosen colour over the top.
Note: Keep some felt or foam left over to give your snail some character!
Step 3
You'll then need to get on with creating the snail's spiral shell.
Start by cutting out a circle from your craft felt, and then cut this to form a spiral shape. This should then be glued to the first circle.
Step 4
Add some features to your snail by cutting out some foam or felt for eyes, or maybe even some googly eyes for some added expression.
Step 5
Once dry, the snail can be attached to a pin or hair clip, depending on your preference, using superglue or by using a glue gun.
Start by cutting out a small piece of felt, and attaching the bottom of your design to it. This can then be glued to the pin or hair clip over the non-opening side, and left to dry.
Once dried, this can be attached to anything you desire, or as a lovely gift of a hair pin or brooch so your family knows you're always thinking of them.
Give your gifts 'presence' with a handmade gift tag
Difficulty: Easy
When you've spent time and effort crafting your family and friends the most beautiful, homemade gifts, why stop there?
Creating your own handmade gift tags is another fun reason for you to get out the craft box and embrace your creativity, and will help add a beautiful, personalised finishing touch to your presents.
To make your own handmade gift tags, all you need is some A4 coloured card, glue and some gorgeous craft feathers.
Step 1
To start, fold a piece of A4 card in half, and half again, and cut along the fold lines. This will be enough to make 4 gift tags, so you'll need to do this for as many gift tags as you'll need.
Step 2
To make the classic 'gift tag' shape, cut off the corners on one side.
Step 3
Get another piece of card, in a contrasting colour, and cut a 1cm wide strip from this card. You'll then need to place this about half of the way up from the bottom of the tag and glue this in place.
Step 4
Get your bag of feathers and place two of your favourite side by side on the card line. Choose another three feathers and stack them on top of each other, ensuring that the largest is at the back and the smallest is at the front.
Step 5
You can then tie these feathers together at the stem with some string, and glue this in place on the gift tag.
Step 6
Use a hole punch to create a hole at the top of the tag, and add another piece of string to tie your tag to your chosen gift.
To personalise your gift tag, neatly write your friend or family member's name on the front, or simply add a lovely 'Merry Christmas' greeting.
So, if you're getting ready to make a personalised, homemade craft for a loved one, before you get making, you'll need to get stocking up.
Make sure you have all the products you'll need to complete your projects by browsing our range of crafts supplies and kits from the Edukit collection.
And, as usual, we'd love for you to share your beautiful creations with us on our social media pages. And as an added treat, we'd be happy to share these with our followers to give them some crafts-piration too.
Give back to those you love and show them you care, by trying your hand at gift making, whatever the occasion.