What is the best flooring for a home gym?
What is the best flooring for a home gym?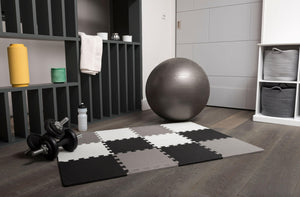 On cold, wet and windy winter days, getting yourself motivated to get up and working out is always a struggle.
Even when you've had a long day in the office or spent your time looking after the kids, even just popping out for a brisk walk can sometimes feel like too much of a tall order.
So, imagine if all you had to do to get your fitness game on was just stay at home. 
No running in the cold. No walking through torrential rain showers. It sounds like a luxury, doesn't it?
Well, your own personal home gym might not be as out of reach as you think it is.
And if you have your own exercise bike, treadmill or weights, you're already halfway there to being able to work out at home this new year.
But, how do I create a space in my home where I can work out comfortably, I hear you ask?
Well, all you need to consider is the most convenient space where you can comfortably work out in, and, most importantly, the type of flooring you'll need to create this home gym area.
And no, that doesn't mean investing in new flooring for a room in your home just to create your own workout space.
There are plenty of interlocking mat options available to allow you to temporarily transform your space into a comfortable, safe and waterproof workout area.
But what flooring option is the best for a home gym; rubber or foam mats?
If you're new to the world of gym flooring, the decision as to whether to invest in rubber or foam mats is certainly something you may never have considered before.
But the two materials have a range of pros and cons to making sure your home is workout-proof ready for you to get your sweat on.
Rubber mats vs Foam mats
Pros of rubber mats
Durability
Rubber mats are typically made to withstand heavy workout equipment, making them an effective option for use in gyms.
They are typically thicker than foam mats so have a tougher exterior, making them more durable to heavier weights. This can, of course, cause particular cons in other areas though, including transporting and moving these types of mats around the home.
They are also easily able to be maintained, just like foam mats, and only required being wiped down on a regular basis.
Noise management
Due to their tough, durable exterior, rubber mats are an effective insulator against sound, making them suitable for use across the home.
Although they are effective at sound-proofing a space, it's also important to be aware that using rubber mats in a home gym could actually emphasise any sound you do make. 
That's because the thickness of the rubber mats means they allow for a higher cushioning effect on impact, which makes them much noisier than EVA foam mats for weight intensity or HIIT workouts.
Cons of rubber mats
Mobility
The heavy-duty nature of rubber mats makes them a particular challenge to move single-handedly, making it a workout in itself to install them properly.
If you're creating a home gym and need to pick up and pack away your mats after your workout session, moving rubber mats around on your own can be a big task, so are only usually effective if you have a designated workout space.
Cost
In most cases, due to the durability of rubber mats, they are typically more expensive than foam mats.
This means, if you're thinking of investing in mats for a wide area, kitting the space out with rubber mats could be an expensive luxury, which can be made much cheaper with the use of foam mats.
Safety
We've discussed one of the major benefits of rubber mats being their durability, with their ability to withstand heavy workout machinery.
But, the tougher surface of rubber mats can, in some cases, make it more a danger to children if they trip and fall. 
This is because the surface is much harder than that of a foam mat, which makes it great to prevent dents from equipment or furniture, but isn't particularly soft to land on.
Aesthetic
Although rubber mats are available in a wide range of colours, you do have to pay a premium to nab these brightly coloured styles. 
With the purest form of rubber needed to create this colourful designs, the range of coloured options for foam mats is far more extensive and more cost effective than rubber mats.
Pros of EVA foam mats
Mobility
EVA foam mats are a great alternative to rubber mats in the home as they are much more lightweight and still offer sufficient flooring protection against heavy workout machinery.
The interlocking style of modern foam mats allows for quick and easy installation, covering a specific area by adding or removing the necessary tiles to effortlessly fit into your chosen space.
The ability to connect and manoeuvre tiles means EVA foam mats are very adaptable when using around the home with their range of different shapes and sizes.
Safety
The nature of foam mats mean they are particularly good at shock absorbing, so if you or your child fall, trip or slip whilst on a mat, they can reduce the risk of injury.
They are also a safer option when exercising as they are much softer than rubber mats. 
EVA foam mats have a great cushioning effect, which means, when you're working out, you're putting less pressure on your joints, making them suitable for weight lifting and cardio workouts respectively.
What's more, most premium foam mats also have a textured surface which adds a further level of protection against slips and trips. 
Cost 
Foam mats are a much more cost-effective option than rubber mats due to the type of material.
If you're wanting to kit-out a wider area in your home, foam mats will allow you to cover a larger space at a more affordable price, still offering floor protection against heavy equipment.
Maintenance
Just as rubber mats can easily be wiped clean, foam mats are designed with this in mind, and can quickly and easily be wiped clean and stored away.
Aesthetic
Foam mats are available in a wide range of colours and design options that mean you can pick a style to suit your home.
Coloured rubber is much harder and more expensive to come by than a foam mat alternative, and with so many patterns and designs, foam mats offer much more variety aesthetically.
Noise management
As with rubber mats, foam mats are able to sound-proof a space quickly and easily, making them a great solution for apartments, garages or at-home music rooms.
Cons of foam mats
Less durable than rubber
Although rubber mats provide a higher level of protection to flooring due to their durability, foam mats are a much more cost-effective option that offers the most necessary protection for a gym space in the home.
Surface
As foam mats are slightly less durable than rubber, in some cases, heavy machinery can leave indents or scratches on the surface of your mats.
At Edukit, we offer a range of foam mats that can do all that and more; designed with home gyms in mind.
Available in a range of colours to suit any interior, all of our EVA foam mats are created to be easily picked, packed and put away at your own convenience, following a quick wipe down after a sweaty workout.
The benefits of foam mats continue with their ability to absorb sound well, a particular plus if you live in an apartment or shared building to help keep noise to a minimum.
Being designed for training in mind, the textured surface of our foam mat tiles provide added grip to ensure slip hazards are reduced and injury is avoided.  
With a range of designs, pack and tile sizes available, including our extra large, large and checked effect foam mats, there's a style to suit your needs and requirements.
You can even get your little one in on the action with our range of foam mats for babies and toddlers.
Whether it's to create your own tummy time mat at home or just allow your child to explore safely, our foam mats allow you to form your own safe haven in the comfort of your own home.
From creating your own pet corner to sound-proofing your child's music room, foam mats have a wide range of uses that can allow you to utilise every space across your home.
To discover our range of functional foam mats to create your own at-home gym, be sure to visit the collection page, here.