Quick and easy summer holiday kids crafts - with little supervision needed!
Quick and easy summer holiday kids crafts - with little supervision needed!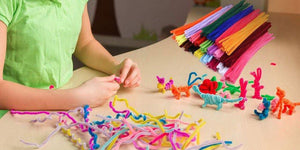 Kids love nothing more than getting crafty. They might enjoy designing their new favourite toy to play with or getting messy with the paints, glitter and glue, but there's nothing they enjoy better than being able to roll up their sleeves and get their hands dirty for an afternoon of crafting!
But there's one thing crafts can be, and that's time-consuming. Whether it's making sure you've got all the right materials, to agreeing on a project that all the kids want to try, sometimes all you want is a quick and easy craft project that will keep them entertained and not take hours to finish.
So, why not grab their attention with these five easy crafts from the experts at Edukit that will keep them glued to their seats for an afternoon? These nifty craft projects require little supervision, so you can get on with jobs around the house, or get your head down with some work, whilst they play safely and stay entertained!
Lollipop stick pen pot
We love a craft that's as useful as it is fun to make! How about giving this lollipop stick pen pot craft a go for a fun way to store your little one's pens, pencils and markers?
Start by using a tin can (preferably a 'pull-tab' can as this is safer) and securing the top of it with insulating tape to prevent any incidents with sharp metal on show. Use as much tape as needed to secure the can.
Once this has been done, the kids can get on with the fun part - the decorating!
You'll need to get hold of a range of coloured lollipop sticks and use glue dots to stick these in an alternating pattern on to the side of the can. From here, the kids can put their own embellishments on the sticks including pom poms, foam shapes, sequins and glitter to personalise their pen pot perfectly for them!
Pipe cleaner cacti
When spending time over a craft, it's so lovely for kids to be able to make something they can keep on a window sill or book shelf, and a pipe cleaner cactus is a simple, fun and easy way to keep the kids entertained and involved.
You'll need a few green pipe cleaners to give this craft a go, including some pom poms and a glue gun.
Start by shaping a pipe cleaner into a circle, twisting the ends together so it stays in place. Get another pipe cleaner, and at one end wrap this around the circle, twisting it on top of itself to stay secure. Link the other end of the pipe cleaner to directly the opposite side of the circle forming an arch, and do the same on the opposite side with another pipe cleaner, which will form a cross pattern at the top. Repeat this again in the gap that is missing so it starts to resemble a cactus shape. Just to note, using different lengths of pipe cleaner will bring out different results to the size and shape of your design!
Glue on a pom pom to the top of the cactus (where the pipe cleaners meet at the top) and voila, you have your cactus ornament ready for pride of place on the mantelpiece! Keep practising your creations to create your own cacti wonderland!
Rainbow pipe cleaner crown
Let your little one's live like royalty for the day with this quick and easy rainbow pipe cleaner crown craft!
All you need to crack on with this craft is some multi-coloured pipe cleaners, card, scissors, ruler, pencil and some sticky tape.
The fun can start straight away by letting the kids select their favourite rainbow colours - we recommend three different shades. You'll then need to cut each coloured pipe cleaner to an individual size - one colour needs to be 6", the next 4" and the smallest needs to be 3" - as these will make up the lines of your rainbow. You'll need around seven strips of each colour to fit the entire way around the crown.
To make the base of the crown, grab your card and measure a 1" wide strip, and roughly measure this to the length of your child's head. Once this has been cut out, you will need to measure and pencil 3" markers across the card, as this will be where the rainbows/pipe cleaners will be positioned.
You'll then need to bend your pipe cleaners to fit along the 3" markers, starting with the largest size of pipe cleaners, and stick these on with sticky tape. You'll then need to do the same with the 4" pipe cleaners, placing these inside the first row, to begin the rainbow effect. Fix again with sticky tape, and repeat with the smallest and final pipe cleaner colour.
Finally, fix each end together with sticky tape or a stapler to see the crown come to life!
Lollipop stick garland
Once you've made your crowns, your little prince or princess should go to the ball! If you've got a party, celebration or just want an excuse to enjoy some family time, why not let your little ones get involved in the preparations with this easy lollipop stick garland?
All you'll need is either some colourful lollipop sticks, a length of string and a glue gun.
Depending on the desired length of the garland, we'd usually recommend around 50 lollipop sticks, but this may differ depending on how you want your garland to look and the length of the string. If you're deciding on your own colour scheme, you will need to paint your lollipop sticks with acrylic paint (but this will lengthen the creation process!)
You'll then need to put your lollipop sticks into groups of five, cutting the centre stick to 4", the inner sticks to 3" and the outer to 2". When you have done this for all of your sticks, you'll now need your string to begin the gluing process.
Place a small amount of glue on the top of your lollipop stick (at the flat end which you have cut) and stick this to your string (please be sure to supervise children at this step). Continue to glue in your groups of five, leaving about a 1" gap between each of the patterns, and once you've finished you'll have the perfect decoration for any party or a lovely addition to any child's bedroom!
Personalised bedroom door sign
A lollipop stick garland is just the start of crafting for a child's bedroom! How about a personalised bedroom door sign that's easily craftable that will help to give the little one's a space of their own?
Grab yourself some sturdy card, giving the kids free reign over their desired shade, and begin designing the base of your design. If you want an added level of thickness, be sure to place a piece of recycled cardboard to the back of your card.
Draw out the initial you'd like to make - using a stencil taken from the internet - and cut round this with scissors or a craft knife (children will need to be supervised at this step). Glue the card stencil to the cardboard and cut this to the same shape.
And here's where the fun bit starts! You'll need to grab all the crafting products you have to hand, whether that's feathers, pipe cleaners, gemstones or foam shapes to name a few (not forgetting the glitter of course!), and start gluing their desired embellishments for a design that's really personal to them.
And that's it! A personalised door decoration in no time at all!

The days of boredom are now over with these fun summer holiday crafts that we know your kids will love! Grab everything you need to complete your crafts in our range of crafts supplies and kits, and be sure to share the pictures of your fantastic crafts with us on our social media pages!