Get rid of school summer holiday 'FOMO' with 'FOAM' mats!
Get rid of school summer holiday 'FOMO' with 'FOAM' mats!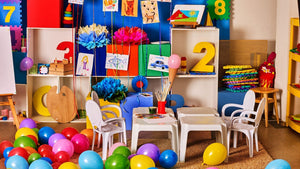 The school summer holidays can be filled with fun, laughter and play for our children, but as the weeks pass by, their attention spans dwindle and we have to think of more and more ways to entertain them.
Looking for versatile products that have a wide variety of uses is key to not spending excessive amounts of money on toys and games, that only keep the little ones entertained for a short time.
So, we think we've found what you're after - foam mats!
The perfect product to have to hand during the school holidays, foam mats have a wide range of uses - some that you may not even have thought of! From keeping the kids safe as they play, for educational purposes and even as padding for heavy home gym equipment - the benefits of foam are endless!
As the summer holidays have arrived, we want to celebrate with our Edukit experts top five uses for foam mats for children - read on to find out more!
Ball Pit
A brilliantly fun way to pass the time during the school summer holidays, your children will love this ball pit, made entirely from foam mats!
As there's no 'construction' needed, the kids can help you create this ball pit in any small corner of the home in no time at all!
Once you've chosen your selected foam mats, the fun can start immediately, as to create your ball pit you'll need to connect the tiles together like a big jigsaw puzzle! Place the tiles vertically at the edge of your chosen size ball pit to keep the balls contained, and build upwards to as high as you need.
You can also purchase similar products that come already built with wide borders around them, which leaves even more time for play!
Add the ball pit balls to your new creation and the fun can start straight away!
As the foam mats act as a soft and safe play area, children of all ages can enjoy this activity. And the best part - as quickly as it took for you to build, the ball pit can be taken down in no time at all - so there's no mess, and no fuss!
Let's get messy!
We're sure your little ones love getting messy, but when it comes to the school holidays, no parent or guardian wants to spend time cleaning up their mess all day, every day!
A particularly useful trick if your kids like to get messy with the paints in the living room, or make their own 'mud kitchen' in the garden, placing foam mats down ahead of the kids playtime will make tidying up after them even easier!
Easily adjustable to fit to each necessary area, the mats are quick to clean, wipe down or jet wash after play, and can be stored out of sight when not in use, so you never have to stop their creative juices from flowing!
Hopping for hopscotch!
Hopscotch has been a game played in the playground for many years, so we love this updated version for some family fun at home!
Using numbered foam tiles, you'll need to connect these together to form the traditional hopscotch pattern. You can even bring learning into this game for younger children, as a way to memorise and learn their numbers.
Whether the rainy days return or the sunshine never stops, this playground game can be suitable for indoors or out, so the fun never has to stop!
Fun with forts
Creating dens and forts are the perfect pastime for the kids during the summer holidays, but they can take hours to build, and stay unused when the novelty has worn off.
But the introduction of foam mats to your children's fort building activities makes for a much quicker construction time! They can build a fort to suit the size of their space - whether that's their bedroom, the living room or even the garden - throw in cushions, pillows, blankets and of course their favourite toys, to build a den fit for a king or queen!
Splashing out
When the warmer weather arrives, the kids love nothing more than making the most out of their paddling pool.
So, let them have fun and splash around the garden guilt-free by using foam mats. By lining up our 'smiley face' mats around the pool, they can act as a non-slip surface to stop the kids slipping on wet grass, and also means they can get dry in a clean area, minus the mud!
After the kids have had enough playing in the pool, the mats can also be placed anywhere around the garden for a clean, soft surface for them to sit on under an umbrella in the summer sunshine - bring on the holidays!
Who knew foam mats could be so versatile?!
With the long summer months ahead, get ahead and beat the boredom by checking out our range of foam mats on our website, and if you have any other ideas for great uses for foam mats, be sure to let us know on our Facebook page!